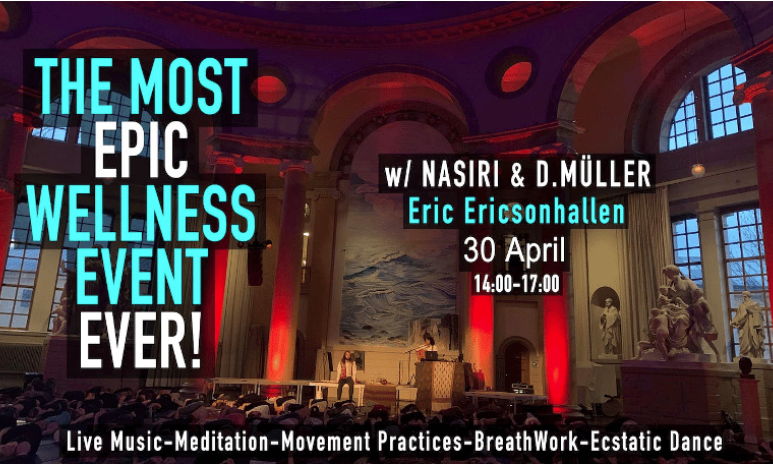 The Most Epic Wellness Event Ever
30 april
Eric Ericsonhallen
Why is it the most epic wellness event ever?
Because we carefully combine some of the best ways of feeling fabulous into one fantastic event with the goal for you to enter deep states of joy and peace through:-Live music
-Movement practices
-Breathwork
-Meditation
-Ecstatic dance
All in a breathtaking venue together with two hundred people. Do you also think this is epic?
At 14:00, the doors to the old church open, and you enter the gate that leads you to find your spot under the magical dome. Shortly after, you hear live Persian Sufi music and feel the energy of the collective gathering setting in as the journey begins.
Rumi poetry lands gently in your ear and sparks something from the beyond. Simple yet powerful movements bring you into your body and presence. Guided by gentle and deep breaths (breathwork), you become light as a feather, and by ending in silent meditation, you reach unchartered territories in your mind, all guided with the dreamy sounds of Nasiri.
At the end of the evening, the arena transforms into your ecstatic dance floor, resonating to live Persian instruments mixed with deep electronic beats.
Bra att veta
Hitta hit
Buss 65, stig av vid hållplats Östasiatiska.
Eric Ericsonhallen